It cannot be denied that due to the pandemic, 2020 was a great time for the flourishing of Polish social media. This time, however, instead of successive high-profile sales campaigns and millions in advertising budgets, brand communication had to be significantly reduced. Many long-term contracts with Polish influencers were terminated, and instead, grassroots or social campaigns led the way. See the 5 most famous campaigns with Polish influencers in 2020! Did they all handle it?
Table of Contents:
#Hot16Challenge2
Maffashion and paramedics
ING and #zdalnidopomocy
Estée Lauder and # Pink October
Missing advertisement for Apart
#Hot16Challenge2
Was there a louder trend among Polish influencers throughout 2020 than # Hot16Challenge2? A bottom-up viral action initiated by the Polish rapper Solar flooded the Polish Internet in the first half of 2020. The rule was simple – everyone who was nominated had to record 16 lines of their rap and nominate more people. The condition was to pay money to the Polish health service to fight the coronavirus and to spread the collection as loud as possible. Although the challenge was initiated by rappers, other musicians quickly joined him, followed by actors, influencers and even politicians from all over Poland. A total of PLN 3.7 million was donated to the health service, and the scope of the challenge made it impossible to find a campaign that would involve so many Polish influencers from so many different industries.
2) Noizz and Maffashion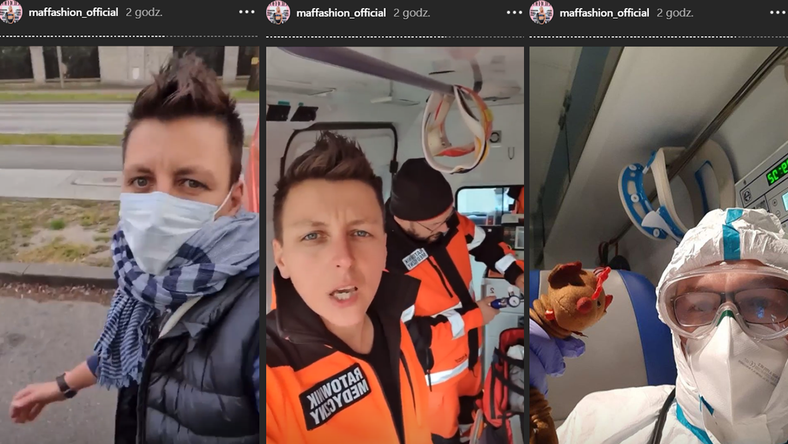 The cooperation of Noizz.pl and one of the most popular influencers in Poland is another campaign aimed at helping employees of the Polish medical service. The #RealInluencers campaign was based on a simple assumption: one of the Warsaw paramedics took over the Instagram profile of Maffashion for one day, which was watched by over 1.3 million people at that time. The paramedic showed the influencer fans what the daily work of medics looks like during a pandemic. She also pointed out the importance of informing medics about symptoms, characteristic of the coronavirus. The campaign was part of a popular campaign, marked with the hashtag #nieklammedyka, combating lying to doctors and paramedics about potential exposure to the virus.
3) ING and #ZdalniDoPomocy
The campaign of the ING bank #ZdalniDoPomocy, which concerned … also the coronavirus, also deserves a mention. This was another example of how the popularity and influence of influencers in Poland can be successfully used in high-profile social campaigns. As part of the campaign, ING Bank Śląski encouraged its clients to help their relatives and elderly people in dealing with banking matters without leaving home, by using an online application. Several YouTubers were involved, including Rezigiusz, Aleksandra Żuraw and Adrianna Skon. A great way to reach young recipients who are normally rarely the main target of banks' advertising campaigns. The campaign was awarded not only by us – it received the Golden Mixx Award 2020 in the category "Online marketing with an influencer". This is how Polish influencer marketing must be done!
4) Estée Lauder and #RóżowyPaździernik
October is the month when the fight and prevention of breast cancer is highlighted, so during this month, we know that many women's brands will be involved in activities related to it. Last year, despite the raging pandemic, it was no different. The campaign of the Estée Lauder Polska # PinkOctober brand, with the participation of Polish influencers such as Joanna Jędrzejczyk, Sandra Kubicka or Anita Włodarczyk, was distinctive among many high-profile actions. The ambassadors appeared in a dedicated photo session and a short video, and in their social media they described what pink means for them in the context of fighting breast cancer. A great plus for the brand for not avoiding difficult topics, as well as allocating up to 50% of their October sales for research conducted by the International Center for Hereditary Cancer at the Pomeranian Medical University in Szczecin.
5) Missing advertisement for Apart
Despite many great campaigns in Polish influencer marketing, 2020 also had its notable failure … the unsuccessful Apart advertising campaign. At the end of last year, the jewellery brand launched a 7-minute Christmas advertisement with the participation of three celebrities: Julia Wieniawa, Małgorzata Socha and Anna Lewandowska. The campaign, despite the fact that it is spectacular, visually appealing and carried out on a grand scale (and probably with an even larger budget), hit the brand like a hiccup. It turned out that the ongoing strikes across Poland, the lockdown, the raging pandemic and protests of entrepreneurs were not a good backdrop for such an artificial, long advertisement promoting pure consumerism. The ad was even a parody by the Comedy Club and can definitely be an example of how … not to do influencer marketing. Especially in times of crisis.
The year 2020 was a special time and quite clearly verified those who could learn lessons quickly and understand the needs of their recipients. Looking back at the last 12 months, what is clearly visible is that greed simply does not pay off in a crisis, and those who understand customers in a difficult time wins much more than growing sales bars. If you are looking for a Polish marketing agency that will create a successful campaign with Polish influencers, contact us. We have experience in this!